Al Jazeera
Ouagadougou holds first election since last year's popular uprising toppled longtime ruler Blaise Compaore.
Burkina Faso holds elections on Sunday, the first since a popular uprising toppled the West African nation's longtime leader and launched a turbulent period of transition.
Hundreds of thousands of citizens took to the streets in October 2014, furious over then-President Blaise Compaore's bid to scrap constitutional term limits and stay in office.
Compaore resigned and fled the country, ending his 27-year rule of one of the poorest countries in the world. But the transitional government soon found itself at odds with his elite presidential guard.
With no incumbent on the ballot and the presidential guard now dissolved, candidates and analysts say the vote will be the most open and democratic in Burkina Faso's history.
"We have a real chance for democracy here," said Tahirou Barry, one of 14 presidential candidates. "For the first time, the incumbent president is not a candidate. This leaves the voters free of pressure, and there is fair play in the process."
---
---
Al Jazeera's Mohammed Adow reporting from the capital, Ouagadougou, said there were long queues in most polling stations.
"A lot is at stake in this election, the road to this day has been a bumpy one," Adow said.
"What the people want is for government officials to bring to an end the turmoil that has engulfed their country for the past year," he added.
Adow noted there is currently a 60 percent unemployment rate in Burkino Faso.
"There are huge challenges for whoever wins these elections," he said.
In September, members of the guard staged a failed coup that saw the interim government restored one week later.
At least 14 people, including two children, were killed during a crackdown on resistance to the coup, according to Amnesty International.
A revised electoral code bars candidates who supported the ex-president's bid to change the constitution, though Compaore's party could have a strong showing in the legislative election.
Some 5.5 million people are registered to vote, according to the election commission, which has said it will publish preliminary results as soon as Monday.
A candidate needs more than 50 percent of the vote to avoid a run-off, which would be held 15 days after first-round results are finalised.
More than 17,000 local and foreign observers are expected to monitor the poll. Security Minister Alain Zagre has said 25,000 soldiers and police will be deployed across the country.
BBC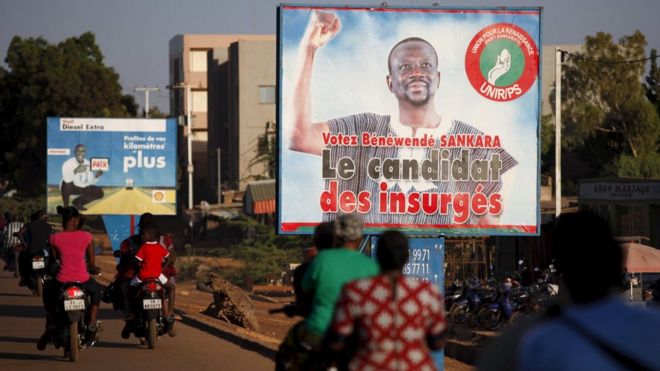 Voting is under way in Burkina Faso to elect a new president and parliament after a year of political turmoil.
It is the first election since last year's popular uprising which toppled longstanding president Blaise Compaore.
Security is tight with up to 25,000 troops expected to be deployed across the country.
The vote was due to have been held last month but was delayed by a failed coup in September led by members of the elite presidential guard.
The election is meant to mark the end of the transitional period following Mr Compaore's removal. Analysts say it could be the most open and democratic vote in the country's history.
"For the first time in 50 years there is an electoral uncertainty… we don't know the winner in advance," said Abdoulaye Soma, head of Burkina Faso's society of constitutional law.
"This is a positive point and a fundamental change from the other elections that we had seen earlier."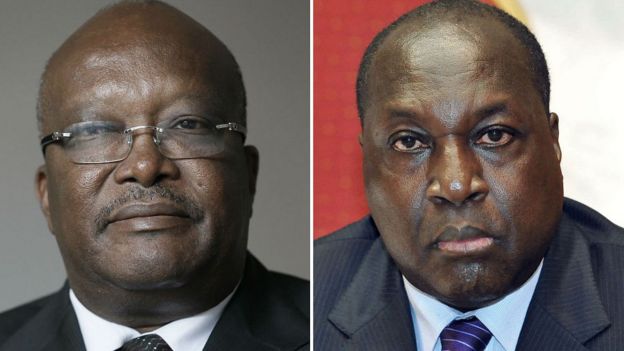 Will the election be peaceful?
Former President Blaise Compaore was forced from office by street protests in October 2014 over his plans to serve another five-year term. He had been in power for 27 years.
A transitional government was installed but the country was thrown into turmoil again in September when members of the elite presidential guard led a short-lived coup. The attempt failed and the guard was disbanded.
Mr Compaore, 64, is now living in exile in neighbouring Ivory Coast.
Fourteen candidates are standing for the presidency and reports suggest that Roch Marc Christian Kabore and Zephirin Diabre are the front-runners.
Economist Mr Diabre has served as minister of economy and finance before he fell out with Mr Campaore in 2010.
Mr Kabore served as prime minister and chairman of the Congress for Democracy and Progress party (CDP) before leaving the party in 2014, after opposing plans to extend Mr Compaore's rule.
If no candidate wins an absolute majority in the first round, a second round will be held.
Polls close at 18:00 GMT and provisional results should be known by Monday evening.