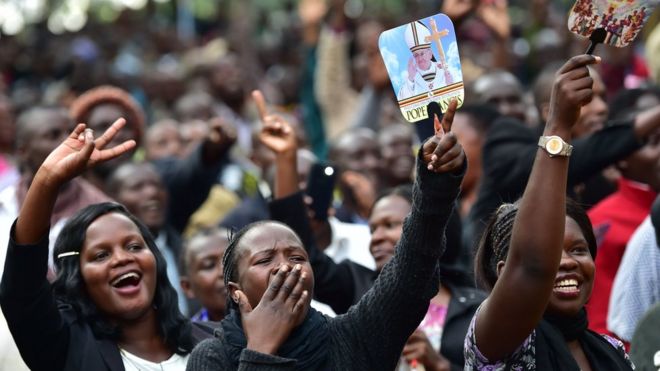 Pope Francis is celebrating Mass in front of an audience of hundreds of thousands of Ugandan faithful.
He is speaking at a Catholic shrine dedicated to Christians martyred for their faith in the 19th Century, on the second stage of his three-country trip to Africa.
The Mass marks the 50th anniversary of the martyrs' canonisation.
There were huge cheers as the Pope began the open-air ceremony at Namugongo, near Kampala.
It was there where many of the 45 Anglican and Catholic martyrs were burned alive.
Their execution was ordered by a king worried about the spread of Christianity.
Thousands of pilgrims braved rain to spend the night holding a vigil near the martyrs' shrines and there were long lines of pilgrims still trying to access the shrine as Pope Francis began to address the crowds on Saturday morning.
Uganda is a deeply religious country, with over 14.1 million Catholics – and even adherents of other faiths will be paying close attention to the Pope's words, say correspondents.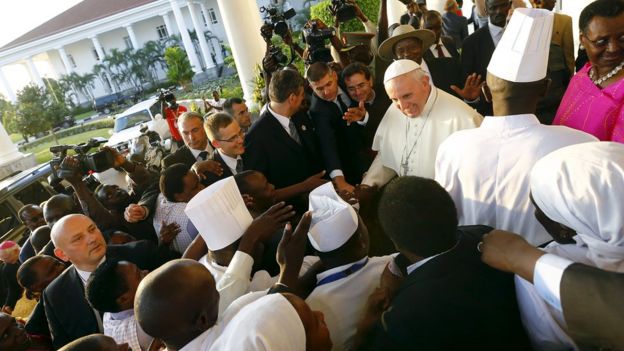 He arrives here during the third week of a presidential campaign being fought by the country's ruler for the past 29 years, President Yoweri Museveni.
Pope Francis is the third Pope to visit Uganda, and he is likely to continue to preach his message of mercy and care for the poor, and to speak out against corruption, says the BBC's religious affairs correspondent Caroline Wyatt – a message that was welcomed by people in Kenya.
He may also talk of the need for reconciliation amongst different tribes and, perhaps, pray for a peaceful vote here next February.
But there were critical references to the Pope's visit on Twitter – with some wondering "how many people have HIV today because contraception isn't allowed?" while others accused him of ignoring extreme anti-gay attitudes in Uganda.
On Friday, the Pope addressed an audience of young people in the Kenyan capital, Nairobi, urging them to unite and take a stand against the destructive effects of tribalism.
He will travel to the Central African Republic (CAR), which has been hit by serious violence between Christian and Muslim militias in recent years, on Sunday.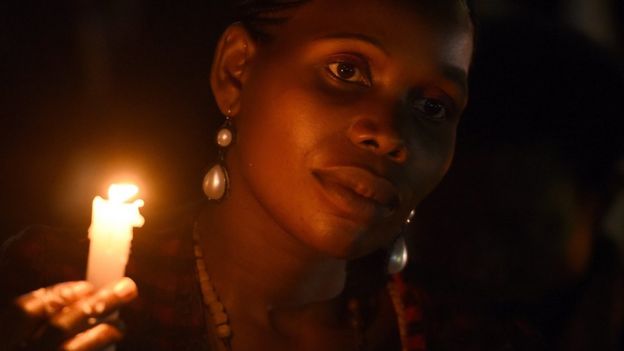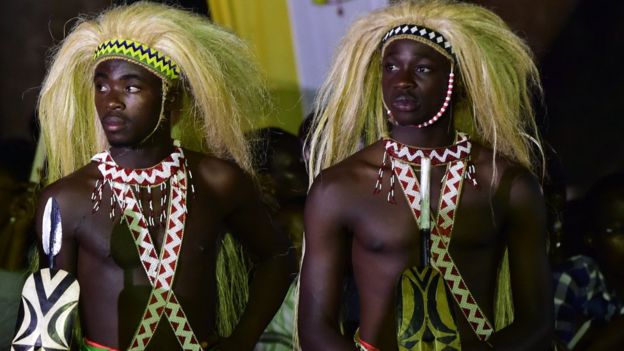 ---
Religion in sub-Saharan Africa:
Christian population is 517 million (63% of total)
Protestants make up more than half the number
Catholics make up about a third
Muslim population is 248 million (about 30% of total)
1.1 billion Christians expected by 2050
670 million Muslims expected by 2050